Inheritance Tax Accountants for London and Essex
It is devastating to lose a loved one, and probably the last thing you will want to deal with is sorting out inheritance tax (IHT) issues. It is important that you look at this as soon as possible so that you know your rights and take care of your family's needs moving forward. Although the family home is not subject to capital gains tax if sold, it may be subject to IHT.
The following page on the UK Government website gives you an overview on the law.
What is Inheritance Tax?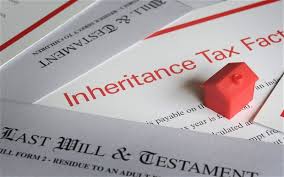 This is payable on the estate of a person when they die. An Estate is essentially the value of Assets less all liabilities of a deceased person. The estate of the deceased person will usually pay HMRC any amount due, however if the estate doesn't pay it or cannot pay it then the person who inherits will have to pay.
This happens when the estate is comprised mainly of assets and has no cash. Usually an estate has six months to pay HMRC. There are situations where the timing of payments to HMRC are different. If you have assets that are worth above £325,000, its best to plan ahead as there are many legal ways of avoiding this IHT altogether.
How Inheritance Tax is Calculated?
Very few people know alot about the ins and outs of this law until we need to know – and then it can become a huge headache. In a nutshell, if you intend to leave your assets or money to people you know and love once you die, you could be leaving them a bill of up to 40% of your estate.
By law, your estate is defined as your property, savings, and any other assets of value, after any outstanding debts and funeral costs have been paid.
In reality, only a small number of estates are large enough to incur payments, but this should be factored into plans when you make your will.
The Financial Facts about Inheritance and Tax
However, before you panic, it's important to remember that there is usually nothing to be paid if:
the total value of your estate is below the Nil Rate Band (NRB) of £325,000
you leave everything above the threshold to your spouse or civil partner
you leave everything above the threshold to an exempt beneficiary such as a charity.
If your estate is above the Nil Rate Band of £325,000, then part of your estate above the threshold may be liable for payments on the estate at the rate of 40%.
The Nil Rate Band (NRB) is fixed at £325,000 until 2021, but your NRB might be increased if you're widowed or a surviving civil partner.  In fact, couples can transfer any unused NRB when the first person died to the survivor.
This new calculation can double the amount of NRB available up to £650,000, and this new rate is known as Transferable Nil Rate Band (TNRB).
How to Avoid Inheritance Tax on Property?
If you've decided to leave your children or grandchildren your property, there are new property allowances that allow you to leave more of your home before you have to ake a payment.
In the 2020-21 taxation year, it's worth £175,000 per person.
For a married couple, this increases the tax-free amount by £350,000, so including the personal allowance, estates of up to £1,000,000 could be completely free of IHT in 2020.
If all your wealth is tied up in your property, you may not be able to gift anyone money in your lifetime or even spend that money on yourself.
To avoid this happening, you could consider taking out an equity release scheme.
You must realise before you do this, that by taking out an equity release scheme, it reduces the assets you own and increases the debts that will count against your property.
If this is the case, perhaps you should consider giving away assets early.
As a result of releasing equity, you could borrow money against the real value of your home, which is known as a lifetime mortgage or selling part of your home at a reduced market rate, but still be able to live there.
It's essential to remember you are 'rolling up' interest with a lifetime mortgage, your debt can quickly grow.
Whatever you decide, it's essential to remember that seeking advice from a specialist is highly recommended, as the process can be a complicated business.
Speak to Our Accounting Experts
At the Finance Equation, we are passionate about helping our clients keep more of their money. If you are worried about your overall position our experts can definitely help you navigate the IHT maze.
If you have a property business and want to know how to avoid inheritance tax on property, we can help you to totally avoid paying it by using a specific company structure. If you qualify to use this structure, you would save a substantial amount of IHT. This complies with current UK case law and statute.
We are happy to discuss the process with you. Call us to schedule a complimentary consultation.